Omar Minaya Is Back In Queens
This
is the best news that I've heard in while. According to the NYPost, the Mets are close to bringing Omar Minaya back to the organization. The Mets tried to land Minyaya this past off season to work with Duquette, but not be the GM. I'm not sure if this will be a two headed GM situation like the Orioles have had but this is the news we wanted to hear. When I made the comment yesterday about needing a GM to stand up to the Wilpons and their cronies but no one was available, apparently I was wrong. Minaya is guy that will stand up for the good of the ball club and will stand up to ownership. Minaya will be the head of baseball operations and will be the guy orchestrating the moves it would seem. This does restore credibility to the franchise and gets fresh and reliable face who is well liked by Latin players as well. This is a good PR move to change the face of this team to potential free agents and other baseball clubs around the majors. Minaya's emphasis is on scouting and player development and has been integral in signing players like Jose Reyes and Sammy Sosa. The bottom line is Omar is a guy with enough clout and enough of a proven track record to stand up the Wilpons and do what is right with this team. The only thing that scares me about Minaya is when he gave the farm away for Bartolo Colon, but everyone makes a bad deal or two. This is huge step in the right direction for the Met organization and is a good sign for the future. I certainly hope Duquette is kept around as well since I think he can be a valuable commodity in helping this team as well provided he can act freely. Together Omar Minaya and Jim Duquette can certainly form a solid front office tandem that can point this team in the right direction.
* * *
In an effort to stave off working yesterday, I was touring the blogs as I often do. Amongst my travels I read Jason's Always Amazin' blog and he had a link to YankeesHater.com. I clicked on the link to check out the site and read around, and I came across their priceless mission statement.

Why Hate?

Hate is good. At least to the extent that it opposes evil. And there lies the challenge: to differentiate between what is evil and what is not. Let's all take a moment to set our moral compasses:

Golden retriever puppies: not evil.
Constantly reminding others of your past accomplishments: evil.
A mother's unconditional love for her child: not evil.
Casting off a legendary player to a dismal franchise after years of greatness: evil.

Cold beer on a hot day: not evil.
Two fat guys celebrating by dumping beer onto a statue of that same legendary player, hours after one failed miserably on the mound and a week before the other would awe the world with a 1-inning outing: evil. And pathetic.

Effectively opposing evil takes a lot of energy, and "hate" simply reflects the requisite level of energy. So, again, hate is good. When the hate of many is bundled together, an immense energy force can be achieved. This force can be concentrated in a single location-like a baseball stadium-or dispersed across a nation. In either case, the force is powerfully present. The Evil Empire feels it. Thinks about it. Becomes distracted by it.

And, in the end, is destroyed by it.

Simply classic. Nothing better than turning your hatred for the Yankees into some cash. Fish around the site, it's pretty amusing.

They also have a Yankee Hater hat for Met fans too.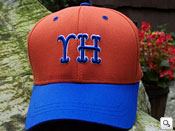 * * *
The Players Association filed a grievance Monday in response to the Anaheim Angels' suspension of left fielder Jose Guillen.

I've largely ignored this happening because I do not think it really matters. He would certainly satiate the Mets need for offense and he is widely regarded as a player with tremendous ability and a cannon for an arm, but he is obviously troubled. He came into the league in 1997 and is in his eighth season. He played on Pittsburgh, Tampa Bay, Cincinnati, Arizona, Oakland, and Anaheim. He stayed with Tampa Bay for two complete seasons and Pittsburgh for two complete seasons. He has not played an entire year on a team except for those four years. He has been traded during the season three times and failed to make it through this year as a part of the Angels. When the Reds acquired him in 2002, they made it clear he was the 4th outfielder. When in 2003 he was not getting the playing time he wanted, he complained and asked for a trade. His problems with the Angels have been well documented in the various articles written about him. Oakland, who had traded for him for the end of last year, had no interest in bringing him back in 2004 despite being very affordable and despite playing solid for them in the time he spent in Oakland. Now the Angles, who are in a pennant race and close to making the playoffs, suspend the guy who is 2nd on the team in homers, RBIs, and doubles. Garret Anderson is not even 100% healthy. If that does not speak volumes about the character of Jose Guillen, I'm not sure what else does.

The Mets have too many off the field problems it is. The last thing they need is yet another distraction and someone else to assist in draining the moral of this team. I do not care how little he will cost for 30 homers and 100 RBIs, he has no place in Flushing. Let someone else take a chance on him. For one, I am sick of the Mets taking chances on players whether it be injury or mental makeup. The Mets need to start doing the right thing regardless of price instead of looking for the bargain and the cheap way to fill gaping holes.


The Mets updated Arizona Fall League roster for the Peoria Saguaros:

Brian Bannister Mets R R 6-2 202 23 Binghamton (AA)
Bob Keppel Mets R R 6-2 202 22 Binghamton (AA)
*Matt Lindstrom Mets R R 6-5 205 24 Capital City (A)
Joe Hietpas Mets R R 6-3 220 25 Binghamton (AA)
*Brett Harper Mets L R 6-4 185 23 Binghamton (AA)
Jeff Keppinger Mets R R 6-1 181 24 Binghamton (AA)

* Denotes member of "Taxi Squad"; Taxi Squad activated on Wednesdays and Saturdays only.

I like the additions of Bobby Keppel and Matt Lindstrom. Keppel did not get as much work this year due to injuries, and this should be a good way to compensate for that. As for Lindstrom, anytime he gets work is good. He's behind on his development so more work is always good for Matt. The Mets also still have one slot left open for pitchers. I thought they already announced that Alay Soler was going to go and that Philip Humber was going to go once he was signed. Soler I would assume still has the last spot since he, unlike Humber, is part of the Metropolitan organization. Although, I have no idea if he has even been able to enter the country at this point and being physically located in the US is a pretty important part of playing the the AFL.

While I am on the topic of Phil Humber, there has been news...but not good news....

The Mets hoped first-round pick Philip Humber could be signed in time to participate in the Arizona Fall League, but the pitcher from Rice indicated in a report that negotiations could drag into spring training.

Pay the man Fred, just pay the man.

While I am on the topic of people Wilpon needs to sign ASAP, what happened with Kendry Morales? After going 7-for-16 with two homers in one workout and 6-for-8 while hitting for the cycle in another workout, mum has been the word. Damnit Fred, sign him.


One thing that is going to be interesting to watch for the last few games of the season is whether the Devil Rays can stay out of last place. Right now, they are 1.5 games in front of the Blue Jays. They have finished dead last in their only six years of existence. I am pulling for the Jays to pass them up and leave them for last again. After they fleeced the Mets for Scott Kazmir I have nothing but contempt for that franchise. Sadly enough, the Mets would let them give them the old screw job again for Pinella if Lamar and Namoli would be willing to part with him. I put in my vote that the Mets should not deal with the Devil Rays in any capacity for any reason in the future. It just will not work out in their favor.


Quick, how many times have the Mets finished in first place in their 42 year history? If you said four measly times, you would be correct. However, when they did manage to finish first, they have won the World Series 50% of the time.

When the Yankmees finish in first this season, they will have finished first in 42 out of 103 years this 'storied' franchise has been in existence. Since they had become the New York Yankees (they were the Baltimore Orioles and the New York Highlanders from 1901 to 1912) they have finished in first 42 times in 91 years (including this year). Pretty tough work being a Yankee fan, huh? Seriously, where's the joy in rooting for this team.


At the all-star break, Houston was 44 and 44. Since then, they have gone 44 and 26. At the all-start break, our New York Mets were 44 and 33. Since then, they have gone 28 and 43.


Richard Hidalgo is going to join Cliff Floyd in being doubtful for the rest of the season. Both may not be on the Mets next year and I'm not going to shed a tear. I think they will be better off without both of them. Thanks for the memories guys, really. Hidalgo was worth every penny for the excitement he provided in July and the huge role he played in the sweep of the Yankees at Shea. But as it turns out, that is all he would contribute. As for Floyd, he showed a ton of heart to end the 2003 season and was inspirational for everyone. This year he's complained more than my girlfriend and seriously underperformed while failing to stay healthy and play for an entire season for the second straight year in a Met uniform. I hope both do well in the future.


Victor Diaz had a tough day in the Mets split of yesterday's double header with the Braves. He went 1 for 8 with four strikeouts. He is batting .323 but his strikeout average is .323. He has as many hits as strikeouts. The Mets foolishly did not give him as strong as a look as they should have. He will presumably start every remaining game, but that still means he has only played in fourteen games and will have only started eleven games. Unreal! The Mets really do not have a large sample of work to judge him by going into the off season therefore making it tough to assess their needs. Will they give him a shot? I would assume not if they can find a suitable and cheap solution to their outfield opening. He should have played just about every single game in September. That is not a huge sample size either, but more than just eleven games started.


Gary Carter insists he wants to be a big league manager but did not discount going through the minors first or taking a bench coach position.

"My position would be that I want to manage at the big-league level," Carter said. "If it requires having to groom myself for that, I would be willing to. But I'm also going to leave my options open."


Terrifying quote of the week:

Peterson on his pet project Zambrano:
"He's in the trainer's hands," Peterson said. When asked how long it would be before he could work with Zambrano again, Peterson replied, "Not even close."

In Kazmir's last start on Monday against the Red Sox, he went 3 1/3 innings before getting ejected while allowing NO hits and striking out six. Someone kill me now. This move was a epic mistake and it is not going to go away.