Random Thursday Stuff
Enjoy the random Thursday stuff I have prepared for you all today.
Last season the Mets had some great commercials. If you are out of area and never got a chance to see them, here you go. If you saw them, watch again and revel in the silliness....thanks to Brian for the links.

Commercial #1
Commercial #2
Commerical #3
Commerical #4

"Dude. I can totally see your head. I can see like 80% of your head."

Gold! Gold I tell you.


Jim Callis had a chat on ESPN.com yesterday. For those who missed it and do not have ESPN Insider, I have all of your relevant information here.

PJ (London): Rank 'em: Pelfrey Lester H.Penn Loewen

SportsNation Jim Callis: (2:05 PM ET ) Pelfrey, Lester, Loewen, Penn

Always nice to read.

Tom (Hartford): How would you rate their performance this year: Andrus/Martinez/Tabata

SportsNation Jim Callis: (2:18 PM ET ) Fernando Martinez has been a revelation in the Sally League. Ranking the three 17-year-olds there, Jose Tabata would be second and Elvis Andrus third.

Fernando a 'revelation', huh? Music to my ears and Martinez went deep for his second homerun of the year and now has fourteen extra base hits and a .349/.421/.554 line. If you could buy stock in a baseball player, I would put everything I had on this kid.

Victor (NYC): If Fernando Martinez were in this years draft, would he be the first position player selected?

SportsNation Jim Callis: (2:31 PM ET ) I wrote about this in Ask BA last week . . . Martinez would have a chance. If a team went on ceiling, and didn't mind waiting an extra year or so compared to the top college guys, he could be.

C'mon Victor. Go to BA once in a while and you would have read this on their AskBA that has been up there over a week. You wasted valuable Jim Callis time with your laziness.

John (London): Last week I asked you to name 3-5 position prospects who might come up and make a difference this year. Thank you for answering. Can you please name 3-5 pitching prospects not named Jared Weaver who might come up this year to make a difference. Billingsley? Hamels? Pelfrey? Yes/no anyone else on your radar screen?

SportsNation Jim Callis: Those are three obvious guys right there. Anthony Reyes or the Cardinals and Jon Lester and Craig Hansen of the Red Sox are two more.

Anyone else think it is just about a given that Pelfrey will be in the rotation by August?

Dave (Tallahassee, FL): Hey Jim, What's wrong with Mike Jacobs? I didn't expect him to be an all-star right out of the gate, but a .180 batting average? Is it a product of impatience at the plate or is he trying to impress his new team too much? Thanks!

SportsNation Jim Callis: (2:42 PM ET ) He's not a .180 hitter, but I've never been a big Mike Jacobs fan. I think he's an average big league regular at first base . . . at best.

And to think, there were a lot of you talking about Mike Jacobs putting up similar numbers as Delgado and thought Carlos wasn't needed. You cannot see it, but I'm giving all of you who favored Jacobs over Delgado the finger.

Mike, NJ: Two years ago, the question who would you rather have, Milledge, Hermida, or Franceour would have been answered a lot differently than today. One is still in the minors killing it with the other two struggling, but right now, who do you pick long term?

SportsNation Jim Callis: Hermida.

This was my question, but I wanted to put 'Mike, Dirty Jerz' instead of 'Mike, NJ'. I had doubts whether my question would have made it on with that, but I wish it didn't submit it at this point. Not the answer I wanted to hear. He didn't even say that it was close like in so many other comparisons. I still take Lastings though no matter what this 'expert' says.

Dean NJ: Hughes or Pelfrey?

SportsNation Jim Callis: (2:55 PM ET ) Pelfrey.

One of a hundred times we'll here his question this season and I've answered this twice before. It is Pelfrey, hands down so stop asking.

jon (ny): jim, you know you took hughes over pelfrey last week, right? check the transcript

SportsNation Jim Callis: This ain't rocket science! They're close. Ask me again next week.

Jeez, cut the guy a break. He might have said Hughes last week, but he said Pelfrey two weeks ago. The message he is trying to send is that they are both good. He would take either one.

Derek Jeter (Tampa): Over or Underrated?

SportsNation Jim Callis: (3:07 PM ET ) Great player, but somewhat overrated.

Again, imagine that Jeter was on the Royals for his entire career? Hall of Fame and Derek Jeter would not be in the same sentence. Intangibles do not do you any good on a sucky team.

Mike (NJ): Fernando Martinez @17 in A-ball Real or Mirage?

SportsNation Jim Callis: (3:11 PM ET ) Real.

Not my question, but he stole my identity. Watch your back Mike, there can be only one.

Leo (Avon, CT): Angelina Jolie or Jessica Alba?

SportsNation Jim Callis: Still going Jessica Alba.

I've went over this. Even when she is not an option, the answer is always Evangeline Lilly.

Zen (Nicaragua): Carmen Elecktra & Heidi Klum & Angie Jolie vs Jessica Alba?

SportsNation Jim Callis: Still going Jessica Alba.

I'll let Zen slide because I do not know if Lost is big down in Central America, but he needs to get with the program going forward.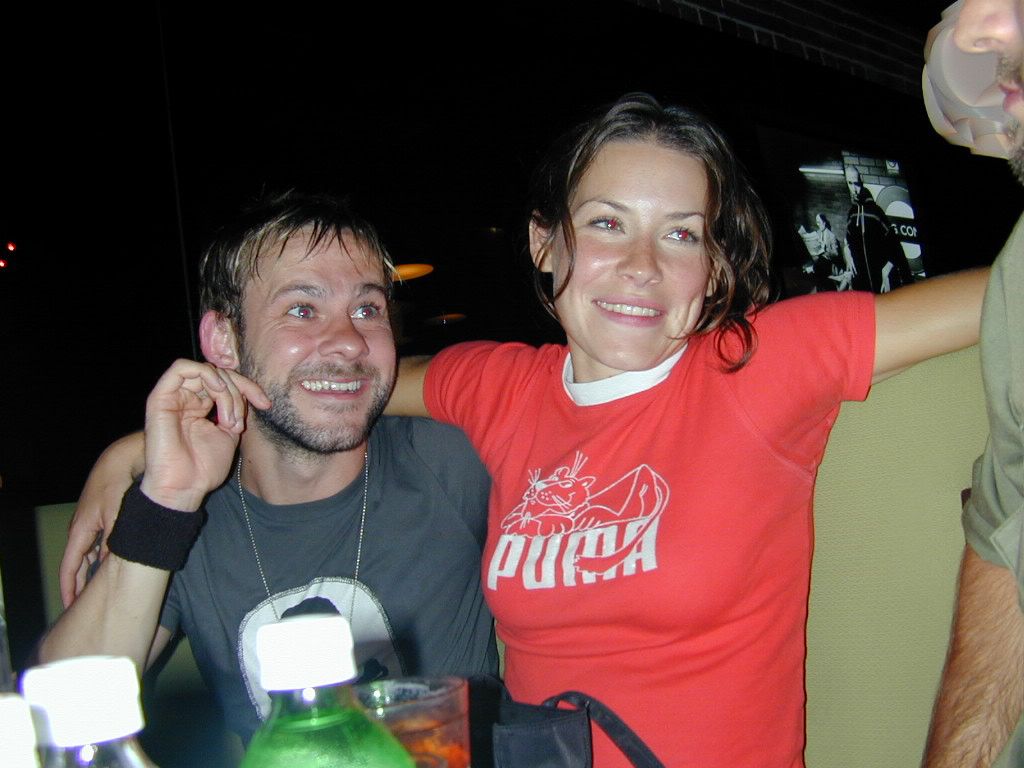 Hey Dominic, check the bottom of your shoe. I think you stepped in something.


If you like Wolfmother and/or Yo La Tengo, you will love this link that DG blessed up with.
Carlos Delgado is worth two Yusmeiro Petit's. This guy is money.

"The best feeling in the world," Delgado said with a wide smile after his fourth career walk-off homer, and first as a Met. "This was a game we should win. We played better than them for nine innings. We were exactly where we wanted to be, a two-run lead with our closer on the mound.

"We are all behind Billy. He's going to save a lot more games than he's going to blow. We want him on the mound every night, when we get a lead, as simple as that."

Pick up your closer when he fails, and he will once in a while.

"(The weather) wasn't bad enough that everybody else struggled," said Wagner. "Everybody else did their job, but I was struggling."

I like how Wagner steps up and does not make excuses for himself and backs up his teammates when they make critical errors while he is on the mound. I never knew this side of him, but he exemplifies what a team player should be and Mike DeJean should take notes. However, you hate to blow it with your ace on the mound set to notch is sixth victory in as many starts.

"This is the fastest I've ever seen Pedro work," said one longtime scout. "His changeup was incredible."

Sadly enough, 32-0 is no longer a possibility. However, 31-0 is still on the table and the way he looks this year, it looks like he is on another level and I think anything is possible if they give him three or four runs a game.


Kevin, you should have thought through your title Billy Blows Another. It is a big suggestive.


Give the kid another shot.

John Maine is still under consideration for Sunday's start against Atlanta. He allowed four runs in 51/3 innings Tuesday in his first start as a Met.

"We haven't decided yet," Randolph said. "He pitched well. He pitched well enough to get another start. But we'll wait and see."

His line was ugly, but he did not look horrible. It was his first start for the Mets and throwing him into the fire in a Met/Brave game will really tell them a lot.


Chavez's play last night was ridiculous. Beltran and Matsui were doing the 'I thought the other guy is going to get it' routine and looked like they were trotting to the ball. They certainly were not busting it and Endy Chavez flies into the screen completely laid out to grab the ball. Unreal. On top of it all, he has been hitting. You have the give the little bugger some credit.


I'm not sure what to make of this statement.

"Does he still have a long way to go as a second baseman? Yes. But I've seen nice progress from him and I've said many times, the more he stays in the lineup, the better he's going to get," Willie Randolph said. "He's looking more and more like the second baseman I thought he would look like."

It clearly shows he had a low opinion of Kaz, but it just comes off as weird.


What can I say about "Dirty" Sanchez that that has not been said before? The guy is just huge. As for Heilman, it looks like his 2005 was not a mirage and he is one of the best relievers in the league. As much as I think he can help this rotation, he is one of the best relievers in the league and I can say with certainty he would not be one of the best starters in the league. He has come a long was since the beginning of 2005.


The Mets offense is hurting. In the last seven days, they are hitting .224/.321/.424 as a team. Wright, Delgado, and Beltran are batting under .200 and Floyd and Matsui are at .200. When five of your starters are hitting like that, it is tough to get wins and the Mets have been doing pretty well in spite of that. This is just a rare stretch where so many guys slump at one time.