The Dynamic Duo Strikes Again (and not in a good way..)
Damn, that was tough loss to swallow. The short of it is Kaz is still on fire, Cameron is too, Piazza is still cold, Hidalgo is still hitting, and Reyes picked up a couple of hits.
Why in hell does Howe trust Stanton and Franco so much? Enough already. Stanton did not get charged with the earned run, but shit, was anyone surprised when he let one of the inherited runners score? That is what he has done all season. Stanton does not give up and earned run himself, but lets his inherited runners score too often. Franco in the 9th? I know he has a .111 BAA for lefties and Abreu and Thome are both lefties, but he is one of the last people I trust. I cringe when he steps on the mound. I am sick of the importance placed on the lefty/lefty match ups. Too much emphasis is placed on it. If you are going to play the numbers and matchups so much, then you should at least take note that Abreu is batting .429 against Franco in 14 at-bats, Thome is batting .286 against Franco in 7 at-bats, and Burrell is batting .500 against him in 4 at-bats. Shove your lefty vs. lefty matchups where the sun don't shine and start trusting Parra and Moreno more.
With first place on the line, I'm disappointed the Mets did not get the win as is everyone else. It was an ugly game offensively in which both teams left 40 combined people on base. It was depressing, I'll leave it at that.
On the Game:
"It's not satisfying," Mets left fielder Cliff Floyd said. "I don't care. We felt like we should have come in here, the way we were playing, and won them all. We lost two tough ones."
-I like to see players sweat out every loss. Cliff plays every game like it is an important one, and in this division it may be.
"Obviously it's a tough way to lose," Franco said. "I didn't do my job."
-Thanks for painfully pointing out the obvious. Way to ruin my night you waste of a roster spot.
* * *
Where the hell is everybody? I'm doing my part, I bought my Sunday package tickets and go to about 20 games year. The Mets are currently ranked 18th in the majors in attendance. They average 28,945 people per game which totals up to 1,157,815 through 40 home games. That is good for 50.4% of capacity at Shea. The Mets will not even get to 2,500,000 for home attendance this year. For a team that is in the largest market in the world, that is not acceptable. Their pals across town are on pace to draw nearly 4,000,000 people this year (3,800,000 of them are inbred). I do expect the Mets' figures to go up a bit if they keep up their current ass kicking pace, but they only have small market teams behind them in terms of attendance. All of the so called large market teams are leaving the Mets in the dust.
In case you were wondering what they have done in the past:
2001 2,658,330 fans / 15th in the league / 58.8% capacity
2002 2,804,838 fans / 7th in the league / 64.5% capacity
2003 2,140,599 fans / 16th in the league / 49.1% capacity
The most they have ever drawn in one year is 3,055,445, which was back in 1988. They have sadly only crossed that 3,000,000 mark twice, while the Yankees do it habitually. I guess you can blame the owners for putting a crappy product on the field in the past or the fact that Shea is not exactly a paradise, but whatever the reason, the Mets draw like a small market team. That should not happen. In my opinion, they should be drawing about 2,800 people annually if not 3,000,000. There are plenty of people around here to go to games.
* * *
Remember these!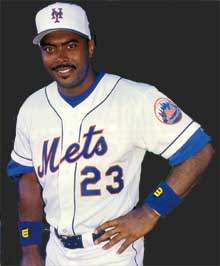 Those white hats were brutal. Besides trading for Piazza, dumping those white hats was the best decision they've made in the last twenty years!
In Norfolk's 3-2 victory over Scranton, Wright hit another homerun and Pat Strange pitched a good game. Strange went six innings surrendering two earned runs.


Milledge continues to be a monster. He went 3 for 5 with his eighth homerun and is batting .337.


Apparently Solir is not an option this year. Jim Duquette is viewing him more as a long term investment at this point and is still on the lookout for pitching


Newsday suggests that Craig Brazell and Jeff Duncan may figure into a deal for Kris Benson along with Wigginton.


Duquette on the status of unsigned first-round draft pick Philip Humber: "We've had dialogue, but I wouldn't say there's been a lot of negotiation."

Jeez, sign him already. Throw the guy $3,000,000 and be done with it you penny pinching losers. It is important to get him working with Peterson. The sooner he gets signed the better.


When the Millwood for Estrada deal went down, a lot of people (me too) were thinking the Phillies got a steal from the Braves. It turns out the Braves where smarter than most people thought. Millwood has 5.15 ERA and Estrada is an all-star with a .333 BA and 48 RBIs.


Bob Smizik from the Post-Gazette in Pittsburgh suggest that GM David Littlefield should wait and try and get David Wright for Kris Benson. . When hell freezes over Bob. Not happening. We'll die with Ginter, Seo, and Erickson before Wright is Pirate. Why do people even have this as a thought in their head? He does say he is unavailable but he follows that by saying that may change. Yeah right. Stop trying to push your trash off for actual prospects. If Suppan got the Pirates Freddy Sanchez, there is no way you receive the top position prospect for a spare underachiever with a hot wife.


The Yankees, Red Sox, and Angels seem to be the most interested bunch in the Randy Johnson deal. The Angels have many more prospects than the Yankees and Red Sox combined. I guess at this point it is up to Randy if he will actually waive his no trade clause and to what team?