Don't Cry For Us
"You can't feel sorry about yourselves. You can't feel sorry about anybody," David Wright said. "It's crunch time. We have to dig deep and see what's left."
No one has pity on New York teams when things go bad. In fact, they probably rather enjoy it. However, there really is no reason for anyone to pity the Mets because they have been doing it all year with rotation being held together by spit and duct tape. One of my bigger issues with this post season was the role the unproven Maine was set to play. It could certainly be argued that John Maine was the Mets best pitcher in the second half, but he was most likely going to skipped when possible in favor of proven veterans.
"Whenever they need me, I'll be available," Maine said. "It's tough. [Hernandez] is a great pitcher, especially in the postseason and he'll be missed. [But] we've got [other] pitchers here who are capable of doing it too, so we'll go out there and pitch our games."
Maine clearly has the best arm of the current staff. He can easily beat the likes of the Dodgers, Padres, or Cardinals. Maine going in game one may seem like the end of the road for the Mets to people that are not Met fans, but anyone who has watched this kid pitch would probably disagree. When he pitches, he keeps this stoic look on face that is either sheer stupidity or utter confidence. I'm not sure which one it is, but either one bodes well because he either does not know enough to be nervous or he just believes in himself a lot. Tonight, he'll have a full house shaking the stadium backing him up.
As of now,
The Duque is off the post season roster
. If Maine can go out there on regular rest and do his thing with Glavine going out tomorrow and doing his thing, the Mets should be able to buy some time to figure this all out. With a good game, Maine could insert himself as large part to this team's run in the post season which might not have happened prior to The Duque's issue. For insurance, the Mets have chosen to carry Oliver Perez as the probable game four starter if needed. Is The Duque getting injured scary? Shit yeah. Are there positives to be taken out of this? As long as he can return this post season, there are a few positives.
Throughout 2006 the Mets three best pitchers were Tom Glavine, John Maine, and Orlando Hernandez. They won 97 games behind those three, a warm body in Steve Trachsel, and a bunch of retreads. As long as the Mets core starters are able to go in the World Series and the rest of the team plays like they did up to September, this team can still take the entire thing and call me crazy, but I think they have a better chance with John Maine leading the charge.
* * *
Frank Thomas is a beast. Physically, he's just a beast.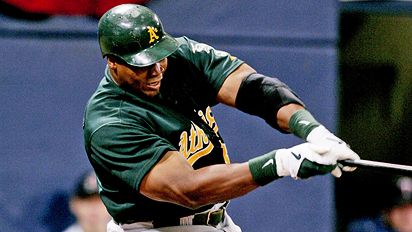 Zito dealing against Santana who was also dealing with Thomas' two bombs.... a great way to start the playoffs. I could not be more excited right now.


Girardi out, Freddi Gonzalez in.

"They came in and said, 'We're going to make a change,'" Girardi said. He said no reason was given, and he didn't ask for one.

Nuts. What Girardi did in 2006 was undeniable. He obviously did not deserve what he got and I'm glad he is gone for my own selfish reasons.


With Braden Looper, Mike Cameron, Mike Piazza, Jay Payton, Marco Scutaro and Vance Wilson all in the playoffs, there are ex-Mets dabbling rosters all over the postseason.


Dan Graziano is hitting the panic button.

Conceivably, the Mets' starting rotation for the Division Series could be John Maine, Glavine, Trachsel and Dave Williams.

Think the Dodgers are shaking yet?

So yes, it looks bleak, and there is real reason to doubt whether the Mets can even get to the NLCS, let alone the World Series.

There is, however, a way through all of this.

"Whoever's pitching, we're just going to try to put runs on the board and hand the ball to the bullpen," right fielder Shawn Green said. "It's worked before."

Offense and bullpen performance will certainly help, but the Mets have done it all year with like this and last I checked, they are still playing the same NL teams they beat up all year. As long as the Mets have The Duque for the World Series, that is all that matters at this point to me.


Newbies? No problem.
"I think it's prepared us playing in New York all season," Wright said. "We've been under a microscope."
Mr. Ocotober Part II? Beltran could certainly start building a legacy if he goes off again in 2006.

Beltran also set a major league record with 21 runs scored and had an extra-base hit in seven consecutive games. Overall, he batted .435 with 14 RBIs, a huge reason the Mets signed him to a six-year, $119 million contract the following off-season.

"It seemed like every time up he got a clutch hit or a home run," Tom Glavine said. "It was pretty amazing."

Did someone say, "Mr. October?"


Payback? You better believe it.
Then as now, the Dodgers are significant underdogs, facing a New York Mets team that established its status as the best team in the NL over the length of the regular season. Adding an exclamation mark to that perceived mismatch in 1988, the East Division champion Mets had beaten the West Division champion Dodgers 10 of 11 times they met in the regular season, outscoring them, 49-18.

But the Dodgers beat the Mets in seven games in the 1988 NLCS and more implausibly beat the Oakland A's in the World Series.
I'm so fucking excited for today's game there is a chance I might puke all over myself. This is what Met fans have been waiting for all season and since 2001's horrible season. The Mets are no longer a laughing stock or whipping boys, but they are the favorites.