Closing Time
Wagner vs. Ryan...Ryan vs. Wagner. Who's better? Who should the Mets target? I do think Omar is betting on the right horse. More money, higher risk, but higher reward. Most of us read
Jeremy and Andrew go back and forth and argue their points
(Andrew, you are right by the way), but the most compelling piece of info went beyond the stats for me and was in the comment section. If you actually have to work while you are at work and don't have time at home to fish through 70 comments, let me save you some time.
As posted by Danny in the comments section:
I live in Northern VA, and because of the ridiculous TV deal that MLB gave the Nationals, the Orioles are still the "home" team here. Let me say for the record, Ryan's pure stuff is not even close to Wagner's. Ryan relies on a deceptive delivery to make his pitches seem more effective than they actually are. As you can see, the results were fantastic last year (although his ERA against the Yankees and Red Sox is troubling). Closers (and relievers in general) without ridiculous stuff tend to flame out, or at least ebb and flow significantly in terms of production. I personally prefer Wagner, because I have more confidence he will be dominant. The slightest misstep in Ryan's mechanics will probably render him mostly ineffective. I just am not sold on him. Even with the age and injury concerns, in my opinion, Wagner is more of a sure thing than Ryan.
His reasoning pretty much sums it up for me. That's not to say Ryan is not a good choice, he is. However, Omar has shown to us that he goes for the top and accepts nothing less. Bar none, Wagner is the guy if money was thrown to side and twelve out of fifteen GMs agreed that Wagner is the man. You can penny pinch all you want about the dollar difference, but the Mets have the ability to reel in the best guy for the job and
have a great shot at getting him
.
"That would put a lot of pressure on the Phillies," he said last night from his Charlottesville, Va., home on the eve of his first face-to-face meeting with new general manager Pat Gillick.

"Four years would be hard to turn down. The Mets are already ahead in some aspects because of the kind of team they can put on the field."
I applaud Omar's aggressiveness and I'm glad he is running my favorite team. We just had this conversation last year with giving Pedro a fourth year and whether or not it was a good idea, but sometimes you have to take a chance to get the deal done. Will Pedro and Wagner have arms by their respective fourth years? I believe more in Wagner's ability to stay healthy for four years simply because he is a reliever that can still throw 100. If he loses a mph or two he is still throwing hard and harder and has picked up a nasty slider over the years to adjust to his loss of zip on his fastball from when he was younger. Mariano is a over a year older and has had just as many, if not more injuries over the years and is going strong with no signs of slowing down. I do not see why Wagner cannot replicate that.
* * *
The link of the day is actually from the other day and it is from the Soxaholix.

The Highlights:

Mr. Roy: " Ah, Christ, you know, I've never understood the vegan obsession with making non-meat products look just like meat products. The Garden Burger? The Tofurky? What the frig? If meat is murder, then why in Christ do the vegans want their crap to look just like meat?"

Arturo: "Yeah, it's like a coupla lesbians with a strap-on. I mean eithah you like dick or you don't. Can't have it both ways, ladies. Heh."
Classic...
While on the topic of being offensive and since I've alienated the last female reader of this site last week...this one goes out to Nokes and is back by popular demand...no cheating this time (you know who you are...). Actually, I've made this semi-cheat proof and uploaded the picture myself and dumped URLs so they cannot be traced. However, if you have enough time and search hard enough, I'm sure you could find the pic yourself, but I implore everyone to use the honor system. I've said there were no official prizes before, but I lied. Since I get a ticket package every year and have extras for games I cannot go to, the prize is two Mets tickets at some point in during the season (you will have advanced notice). I have no idea how long this will run, but here goes the first official installment. I've decided to not lay up a softball on the first try. Email me with the answer, email me once per pic. Hopefully not too many people email me or else this could turn into a second job (actually a third, this blog is my second job). If it does, we may only get four pictures deep into the contest. If the answer gets posted in the comments, every email after that is disqualified. Thems the rules and if you do not like them, suck it. Here it goes...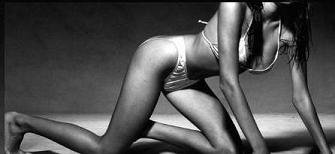 Now it's a side view and not straight on so I've included more body parts for extra hints. You can thank me later for the expanded view and spelling does count (kidding of course). Thank Will for suggesting the tickets as the prize..who'll step it up?


I don't like A-Rod, but c'mon. Who gives a shit? Let the guy live his life and gamble his millions and few things in life are more fun than gambling. You can preach to me role model all you want, I do not see any harm in it.


Despite the fact that I've been called a pig before by some readers, I'm all for Kim Ng getting the GM job for the Dodgers. I hope the best person gets the job and if that is her, great. She has been around the game for a while, has the credentials, and would be a great story. Obviously she would be the first woman GM and the first Asian GM as well in the States.

Good luck Kim from all of us Met fans. Oh, we also apologize for Bill Singer. He was a little drunk that night and he can get that way sometimes. He is usually not allowed to drink jägermeister for obvious reasons.


The Mets are set to (as Steve put it) do the pole dance to try and sell NYC to Kenji Jojima. My only suggestion? Don't let him talk to Kazuo.
On Jojima:
"He has a very, very strong arm, a quick release and loves to try to pick runners off first and second," said the scout, who requested anonymity. "He was not one of the best ball blockers in Japan. But he might (have) just been bored, as the majority of his missed and dropped pitches often happen in middle innings of games that are not close."
Huh? That's not good any way you shake it, but I'll hold off before judging him.
"He's a strong catch-and-throw guy," the Mets executive said, "and defense usually translates pretty well."

Offensively, the Japanese scout described Jojima, who has averaged .305 with 30 homers and 87 RBI over the past five seasons, as an outstanding hitter with power to all fields.
Should be interesting.
The Yankees have taken Hideki Matsui off the market by inking him to a four year, $52 million dollar contract. The Yankees are also mulling over offering Brian Giles a three year $30 million dollar contract to play centerfield but want to gauge his interest to see if he truly would come to New York.

Giles, however, "has no preference where he plays," agent Joe Bick said.

Omar? Buddy. You listening?


Scott Eyre is not going to be a Giant in 2006 but may prefer to stay in the NL.

In their quest for bullpen help, the Yankees have been in contact several times with Tommy Tanzer, the agent for left-handed relief pitcher Scott Eyre. The 33-year-old Eyre is unlikely to re-sign with the Giants, for whom he made 243 appearances over the past three seasons, but it's believed his preference is to remain in the National League in spite of strong interest from the Yankees, Red Sox, Indians and White Sox.

Hmm...


David Wright placed 19th in MVP voting with 18 points, including one fifth-place vote.

I'll take a top 20 finish for a 22 year old stud.


There is a market for Cammy and it could turn out to be a very good thing for the Mets.

The Padres are looking at him for center field. They have plenty of good relievers, Xavier Nady, and Josh Barfield, though they would be unlikely to trade him.

The Orioles still like him, but Jorge Julio is not the answer and I am not sure I really see a fit with them. They have some intriguing prospects, but the likelihood of Omar trying to walk away with prospects is slim to none.

Then are the Diamondbacks. Perhaps no team is more prospect rich with people that can play on the Major League level right now that has interest in Mike Cameron. They also need starting pitching, which the Mets have. We've discussed a Benson for Javier swap in the comments the last few days and I would all on board for giving them Benson, or another SP like Jae Seo, for Javier and Chad Tracy/Conor Jackson/Carles Quentin. If they feel like they need a little more for one of their young players and Javy, then they can have Brian Bannister. The D-Backs interest me big time in regards to being a trade partner.