Wake Me Up When The Mets Start Playing Baseball
Ossy:
braun is paid
Ossy:
http://www.money.co.uk/article/1000390-13-year-old-steals-dads-credit-card-to-buy-hookers.
Me: Awesome
Me: Braun is awesome too
Ossy: pelfrey no hitter into the 7th
Me: Huh?
Me: They are on now?
Me: What the fuck?
Me: I've been in my own little shell
Ossy: yea
Ossy: sny is broadcasting from the RF bleachers too
Ossy: cohen and kieth
Ossy: we're down 1-0
Ossy: bot 9
Ossy: this is bad if we lose this one
Me: So the no hitter is gone.
Me: Damn
Ossy: beltran on 3rd
Ossy: 1 out
Ossy: with delgado
Ossy: i have no confidence in him bringing him in
Ossy: of course
Ossy: he lines out to 2b
Ossy: and beltran gets doubled off
Me: Delgado blows.
I have been feeling very weird about this team lately. I have been incredibly busy these days and no matter how busy I have been in the past, I typically made time to write a little something about the Mets. Now? Blah. There is shockingly just nothing compelling about this team and they have become completely boring. Almost 40 games into the season, the Mets are one game over .500 and playing the sub .500 Yankees this weekend.
There is a little less juice for me these days in regards to this series because instead of having two teams at the top of the pack, you have two teams just trying to hold on. The Yankees at least have an excuse being they have serious pitching problems, but the Mets have been largely healthy and their off-season vision of how this team would be comprised has been largely intact.
The team they wanted to run out there has been run out for the most part and a team that is universally believed to have talent. They had pitching, they had hitting, they had defense, and they had some good relievers. Where is the disconnect? What is the problem? If Omar and the Wilpons want to take a Randolph-like approach to this team for the rest of the season, great. However, they will miss the playoffs again.
Something needs to give here and the team is
not looking like a cohesive group.
Maybe I am completely wrong, but Wagner does not seem to care what Willie thinks and Wagner is amped up enough and thinks enough is going on that he feels the need to speak out. I have been optimistic all season, but at this point, I think it is hard to be. Yes, the Mets are 2.5 games out of first, but it is a painful 2.5 games.
"Somebody tell me why the -- the closer is getting interviewed and I didn't even play," Wagner said, "and they're over there not being interviewed."

Let the record state he pointed in the direction of the row of lockers where Carlos Delgado and Carlos Beltran dress.

There was no one there.

"Oh, I got it," Wagner said. "They're gone. -- shocker."

(Beltran already had spoken. Delgado never did.)

A little less than a year ago, Paul Lo Duca angered the Mets' front office by uttering a similar sentiment. "Nobody else wants to talk," he said. "Some of these guys have to start talking. They speak English, believe me."
And there you have it. Willie is the captain on this ship and it seems to have firmly run aground. If I had my way, he would have been axed after missing the World Series by one game, but the Mets lied to themselves despite glaring holes in his baseball reasoning. Fast forward to 2008 and not much has changed except the clubhouse has seemingly moved backwards. Something about this team just feels all wrong right now and this season is quickly turning into a disaster.
* * *
Ha!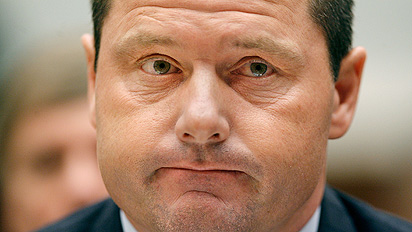 David Sloan? Bat shit crazy.

"That a joke too? You're a funny guy."

And then, at 12:46 pm, in apparent celebration of Mother's Day, David Sloane, the agent for Carlos Delgado, wrote back the following e-mail, which I present to you in its entirety:

"So's your Mom."

Nice. I am officially sick of Delgado and his agent.


Klap thinks the Mets are out of control.

At some point, winning players have to become emotionally invested in the wins and losses. That's a formal way of putting it. Here's a simpler expression of the truth: the Mets need an edge. Wagner says, "There needs to be other guys that are accountable" and not leave the explaining to the same teammates every day. That creates "tension" in the clubhouse, because it creates the impression that certain cliques don't care about winning or losing.

Preach on brother.


Adding insult to incompetence. Losing that game hurts.


Labels: blah, suck, willie time