Magnificent Bastard
Here we go again.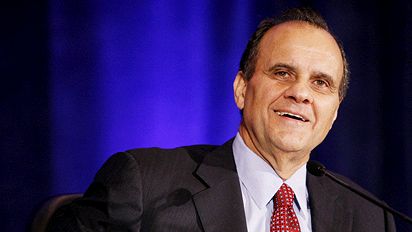 Joe Torre might not be the smartest manager alive when it comes to Xs and Os. He might not be able to win any beauty contests. He might like to ruin the arms of certain relievers. However, you have to give the man credit. He knows how to pick a team.
He took over the Yankees when they were on the precipice of a dynasty and promptly won a World Series in his first year managing the Yankees after only posting a winning record in five of his previous fourteen years as a manager with no playoff appearances. A long time later, he is heralded as one of the greatest human beings ever to live on this planet and rumor has it that he shits gold nuggets.
Now, he takes over the reigns of a team that arguably is positioned for the best five to ten year run out of any team in the big leagues. No only do they have purchasing power, but they have insane prospects all over. Outfield, infield, the rotation, and the bullpen. If the Dodgers play their cards right, they could have a little mini-dynasty themselves over the next few years and guess who will only be adding to their legacy?
Yes, Joe Torre. After only notching a .500 or better record in five of fourteen years previous to becoming the Yankees skipper, he notched twelve straight winning seasons with a trip to the playoffs in every season. Now, he stands to build up his resume and continue piling up wins and playoff appearances while sitting in sunny LA. Make no mistake, he will miss the electricity of being around New York fans, but I do not think he will be complaining all that much.
* * *
Easley is back and he should be welcomed back by all. I thought he was great for the team and a valuable piece.


Here is a thought....if the Mets truly want to pursue A-Rod, tell him he can play first base for the New York Mets. If it comes down to money and the Mets are the most generous, then great. Let him choose to play for the Mets or third base for someone else. I think the Mets should be done asking their more than capable future MVPs to move anywhere.


Four or five years for a 37-year old catcher coming off of a career year? No thanks. I know he could slide down to first at any time after this year, but he does not nearly put up the offense for first and people should not get blinded by his 2007 season, which is far out of line with his previous years. He batted over .280 exactly twice and never above .290. He also only slugged over .500 once prior to last season. Did he just become a vastly better hitter in '07? Doubtful. These things happen and I am not sure Posada would be worth what it would take to get him here. The Mets might be paying Delgado money to him to put up Delgado's '07 numbers at first for a while. Jorge loses all his value when he is not catching and history does not bod well for 37+ year old catchers.


Curt Schilling is eying the Mets.

Here is the deal. If the Mets shift The Duque to the pen and were looking to bring Glavine back, get Schilling. No need to go down the Glavine road again as it is time they break ties with him and Schilling has the ability to be worlds more effective at this point in his career.


Nate Silver hits the nail on the head.

What They Should Do: Weak Buy. Repeat after me: There is no need to panic. The Mets absolutely have to find themselves a catcher, since Paul Lo Duca and Ramon Castro are free agents. They were wise to re-sign Moises Alou in left field, but should not do the same with Shawn Green in right, instead leaving the job to Lastings Milledge. And they may need to sign or re-sign a second baseman, as Ruben Gotay might or might not be a capable regular. But none of those swaps should require a substantial increase in payroll, and the starting pitching isn't the disaster that it seems, since even assuming that Tom Glavine departs, Pedro Martinez has been resuscitated to take his place. Sure, it wouldn't hurt if the Mets increased their spending a little, giving the 3.8 million fans who turned out to Shea Stadium last year something to chew on. But with CitiField set to open in 2009, it's more the talk radio jocks than the fans that need to be placated.

What They Will Do: Strong Buy. It's not like Omar Minaya needs many excuses to be aggressive, and he'll have several after the Mets' flop in September. Mets fans will have to hope that youngsters such as Milledge and Fernando Martinez aren't collateral damage.

Righteous.

Quick aside...I sometimes enter words in google to check their spelling. Apparently, my first spelling of it was wrong and this is what came up:

1. richeous

A misspelling of the word righteous. Dumbass.

You spelled righteous richeous, you are a a dumbass.

Labels: alex rodriguez, curt schilling, dumbo, The Great Joe Torre, tom glavine